Red Coris Wrasse: Juvenile
Coris gaimard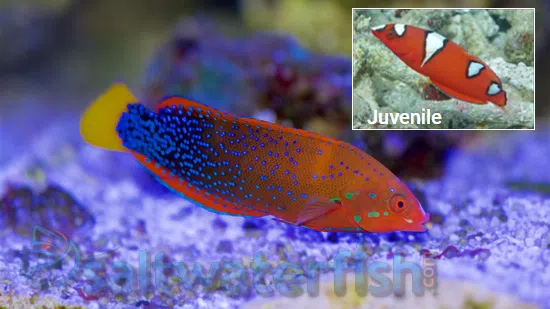 Red Coris Wrasse: Juvenile
Coris gaimard
{{ item.name }}
Size: {{ item.extra_field_3 }}
${{ getFormattedPrice(item.price) }}
${{ getFormattedPrice(item.saleprice) }}
${{ getFormattedPrice(item.price) }}
Care Facts
There are no key facts available for this product.
The Red Coris Wrasse, Coris gaimard, is commonly referred to as the Clown Wrasse, Red Labrid, or Yellowtail Coris. The juvenile and adult appearances vary greatly, where in adulthood, the body takes on a speckled blue coloration, the fins are decorated with yellows, reds, and blues, and the face is orange with green stripes. It prefers a brightly lit tank with plenty of places to hide and swim. Multiple Red Coris Wrasses can be kept together but may fight as they grow. It will occasionally clean the body surface of other fishes, in an attempt to remove parasites and dead tissue but this is usually less common once they reach adulthood. Feed them 2-3 times a day a mixture of frozen thawed brine shrimp, mysis, krill, and other meaty saltwater foods.

Currently Red Coris Wrasse: Juvenile does not have any reviews.