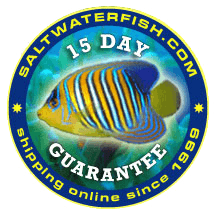 Money Back Guarantee
If within 5 hours of FedEx delivery you report via the online guarantee request system that your marine life did not survive,
Saltwaterfish.com
will refund the purchase price of the deceased item, provided you fill out the guarantee request form in your account and upload a photo through the provided photo up-loader. Photos must show deceased items out of the bag, out of water, and on a white background for guarantee activation.
15 Day Guarantee
Saltwaterfish.com
is happy to offer you a 15 day live guarantee on your marine life purchases! If your marine life does not survive 15 days after delivery,
Saltwaterfish.com
will issue you a store credit for a future marine life purchase, provided you fill out the guarantee request form in your account and upload a photo through the provided photo up-loader. Photos must show deceased items out of the bag, out of water, and on a white background for guarantee activation. Store credit is not cash, can only be used for marine life purchases, and does not count towards reduced shipping charges. Store credit cannot be combined with other coupon code related offers. Use the offer that is best for you. Accounts and store credit can be refused and removed by
Saltwaterfish.com
at its sole discretion. Store credit is for marine life only and expires 18 months after issue.
Phone messages and emails cannot be accepted for money back or store credit claims. You must use the automated guarantee request system. The online guarantee request system is our sole method to track and record all guarantee request claims. This system allows us to credit your account most efficiently and creates a database so we can analyze trends to improve species selection and shipping techniques for future orders. Some smartphones cannot access the guarantee request system. If this is the case for you, please submit your claim using a computer. A claim is not considered submitted until the guarantee request is made and a picture is provided. We appreciate your support and cooperation.

Saltwaterfish.com
reserves the right to reship at our discretion. Shipping and box charges are not covered by either guarantee and are not refunded.
How Do I Make a Guarantee Request?
The process is the same for refund or store credit:

Take a picture of the livestock in question. The picture should show the animal out of its bag, on a white background.
Go to My Account at the top of the website. Login to your account, then click "My Guarantee Requests", then scroll down, and to the right of the tracking number, click "add new guarantee". That is the form to submit with photo.
Fill out the form and upload the picture using the automated system (it must be within 5 hours of delivery for refund or 15 days of delivery for credit). Guarantee requests that do not have photos attached at time of submission will not be processed. We have every confidence that our live goods will thrive in your system if they are provided the proper saltwater environment, including: water chemistry, compatibility, and tank setup, all of which are the hobbyist's responsibility. We reserve the right to request the actual animal be returned to our facility and request a water sample. Deaths due to compatibility, jumping out of tank, etc. are not covered under the guarantee.
We will review your submission and issue the appropriate refund or credit usually within 3 business days and you will receive an email when that occurs. Please note that we do not re-issue credits for product purchased with store credit. If you place an order that is paid for using both store credits and cash, the system will calculate the percentage of the Marine Life order that was purchased with cash and apply that percentage for any animals that do not live during the 15 day guarantee. For instance, if a $100 Marine Life purchase is made with $90 cash and a $10 credit, you will be entitled to 90% of the value of any livestock that does not stay alive during the 15 day guarantee period in store credit. We apologize in advance that we do not re-issue store credits.
What About Bundled Products?
If part of a bundled product dies, we will credit you a prorated amount of the price. Bundled products include such items as Reef Packages, Clean Up Crews, and other products that are made of more than one product / qty.


What About Reef Rewards Items?
Reef Rewards items do not have any guarantee.




What About Free Items?
Free items do not have any guarantee.
How Do I Use My Credits?
Your store credit will be kept in your individual account area of the site. On your next purchase, the system will inform you of any credits you have available. IF you choose to use them, simply go to the Coupon area of checkout and follow the prompts. Store credit applies to marine life orders only and does not include the cost of shipping. Store credit can be used with promotional offers but it does not count towards the promotional minimum purchase requirement. And remember, your credit expires 18 months after your original purchase date.


What About Aquarium Supplies?
We cannot accept any aquarium supply returns on anything that has been opened or used. If your item is defective, e-mail us at support@saltwaterfish.com for a Return Authorization number. Returns without an RA number will not be accepted. If you are returning a new, unused aquarium supply product, request an RA number and return to us at your expense within 15 days of your receipt and we will issue you a refund for your original purchase price less a 15% restocking fee. Shipping is not refunded.