Springer Damsel
Chrysiptera springeri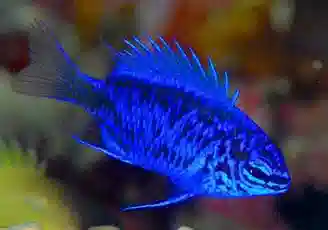 Springer Damsel
Chrysiptera springeri
{{ item.name }}
Size: {{ item.extra_field_3 }}
${{ getFormattedPrice(item.price) }}
${{ getFormattedPrice(item.saleprice) }}
${{ getFormattedPrice(item.price) }}
Care Facts
| | |
| --- | --- |
| Care Level: | Easy |
| Temperament: | Peaceful |
| Diet: | Omnivore |
| Reef Safe: | Yes |
| Minimum Tank Size: | 30 gallons |
| Max Size: | 2 inches |
The Springer Damsel, Chrysiptera springeri, also known as the Blue Sapphire Damselfish is a beautiful blue-sheened damsel that can be a beneficial member to any tank as a flat-worm eater. The Springer Damsel is a great fish for beginner and expert aquarists alike as it is beneficial, beautiful, and easy to care for. They should be housed in tanks of at least 25 gallons with some rockwork for them to hide in. They can be, but are not always, aggressive towards sessile inverts. Overall, this is a great beginner fish as it is reef safe, hardy, and easy to care for and fits well in smaller tanks.
Hardy little fish! They were eating well from day one, and are fearless, curious little guys. The description of them as peaceful is accurate, which is why I wanted the Springer damsels. Some of the other damsels will kill each other off. Coloring is not quite as bright as the photo but a beautiful dark blue
---
Reviewed by: Maureen Croft on May 29, 2023
Nicely sized. Arrived healthy and acclimated easily. Really beautiful coloration. Seems well-behaved with the other fish in the tank. He is curiously exploring the tank and cautiously venturing out of the rockwork.
---
Reviewed by: Heidi G on March 10, 2022
Would buy again, looks cool.
---
Reviewed by: Anthony Poser on June 21, 2017