Huchtii Anthias: Female
Pseudoanthias huchtii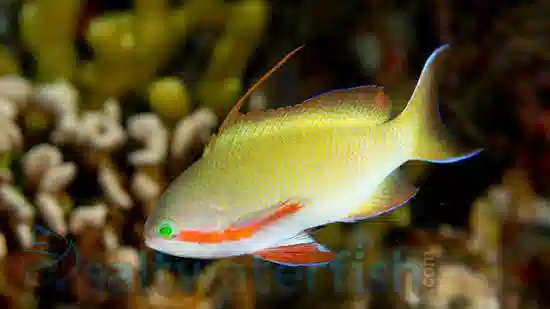 Huchtii Anthias: Female
Pseudoanthias huchtii
{{ item.name }}
Size: {{ item.extra_field_3 }}
${{ getFormattedPrice(item.price) }}
${{ getFormattedPrice(item.saleprice) }}
${{ getFormattedPrice(item.price) }}
Care Facts
| | |
| --- | --- |
| Care Level: | Moderate |
| Temperament: | Peaceful |
| Diet: | Carnivore |
| Reef Safe: | Yes |
| Minimum Tank Size: | 120 gallons |
| Max Size: | 5 inches |
The Huchtii Anthias, Pseudoanthias huchtii, is hermaphroditic meaning all are born females, and when needed the dominant female turns into male. They also display sexual dimorphism with the male displaying a yellow/green body color wit a horizontal orange stripe just behind the eyes and electric blue highlighting the fins and tail while the female displays the same yellow/green body and orange stripe behind the eyes though is not nearly as vivid and has no blue highlights. They can be kept as a mated pair, or in a small school of females. Avoid keeping two males in the same tank, as it can lead to extreme aggression.
They are pretty hardy and can be kept in a reef tank setting with plenty of live rock. Diet should include a variety of a steady supply of copepods, frozen mysis and vitamin enriched brine shrimp, as well as high quality flake foods 3-5 times daily.
Beautiful Huchtii Anthias swims in out of the rock formation in the saltwater fish tank. Healthy and energetic after acclimation.
---
Reviewed by: Orlando Asumata on April 4, 2022
---
Reviewed by: Dp on Oct. 8, 2014