Red Belted Anthias
Pseudanthis Rybrizonatus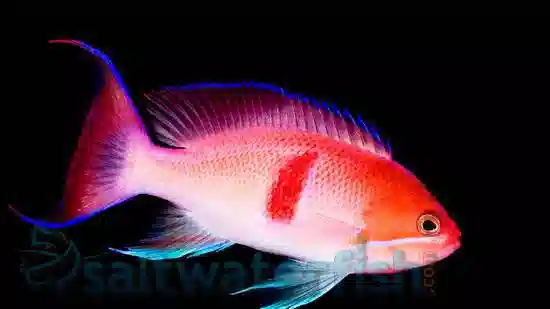 Red Belted Anthias
Pseudanthis Rybrizonatus
{{ item.name }}
Size: {{ item.extra_field_3 }}
${{ getFormattedPrice(item.price) }}
${{ getFormattedPrice(item.saleprice) }}
${{ getFormattedPrice(item.price) }}
Care Facts
| | |
| --- | --- |
| Care Level: | Moderate |
| Temperament: | Peaceful |
| Diet: | Carnivore |
| Reef Safe: | Yes |
| Minimum Tank Size: | 70 gallons |
| Max Size: | 5 inches |
The Redbelted Anthias, Pseudanthis rybrizonatus, is hermaphroditic meaning all are born females, and when needed the dominant female turns into male. They also display sexual dimorphism with the male featuring red/orange that quickly fades to a bright pink body with a red bar on the side and electric and sky blue highlights on the fins and tail while the female displays a pale red with yellow marks on the scales. They can be kept as a mated pair, or in a small school of females. Avoid keeping two males in the same tank, as it can lead to extreme aggression.
They are hardy and can be kept in a reef tank setting with plenty of live rock. Diet should include a variety of a steady supply of copepods, frozen mysis and vitamin enriched brine shrimp, as well as high quality flake foods 3-5 times daily.
I bought this Red Belted Anthias here and to show you how hardy this guy is, he was the most active of 5 fish I had delivered when outside temp in MN was 21 degree out and bag water was at 68 degrees. All survived after 2 1/2 hr slow drip acclimation. He is a colorful little guy to watch darting around the tank. He is constantly on the move searching for food or detritus on the bottom as well as on reef rock. Likes to dart in and out of rock. He is getting much better at snagging Mysis shrimp I drop in before the other 6 fish hog it all, especially my Hamlet Indigo who gobbles everything that moves. A joy to watch.
---
Reviewed by: Philip Brock on Sept. 11, 2021