White Collar Butterfly
Chaetodon collare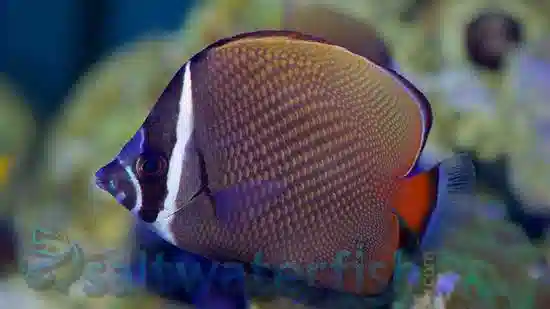 White Collar Butterfly
Chaetodon collare
{{ item.name }}
Size: {{ item.extra_field_3 }}
${{ getFormattedPrice(item.price) }}
${{ getFormattedPrice(item.saleprice) }}
${{ getFormattedPrice(item.price) }}
Care Facts
| | |
| --- | --- |
| Care Level: | Moderate |
| Temperament: | Peaceful |
| Diet: | Omnivore |
| Reef Safe: | No |
| Minimum Tank Size: | 120 gallons |
| Max Size: | 7 inches |
The White Collar Butterflyfish, Chaetodon collare, has a latticed shiny grey/brown color with a beautiful red/orange tail, a thick white band around its neck area, translucent blue pectoral and dorsal fins, and a characteristic blue nose. They are very peaceful and can be kept with other peaceful fish, but may become aggressive towards other Butterflies with a similar pattern or coloration in smaller tanks.
They are also not reef safe since they will nip at and eat soft corals and stony polyps as well as ornamental shrimp, tube worms and anemones. Diet should include a variety of mysis and vitamin enriched brine shrimp, spirulina, nori, seaweed, marine algae, and algae based foods, 2-3 times daily.
Love this White Collar Butterfly! He is so beautiful and such an interesting personality! He doesn't bother anyone and has actually become friends with our yellow wrasse! They swim attached at the hip looking for food! He is a very mellow swimmer who loves swimming through the rock work to find new caves. He is a little hard to feed when competing with quicker eaters, I let a couple pellets sink in front of him and sink a few spirulina flakes! I highly recommend him, he is sweet, beautiful, and easy!
---
Reviewed by: Shia M. on Sept. 11, 2021