Potters Wrasse
Macropharyngodon geoffroyi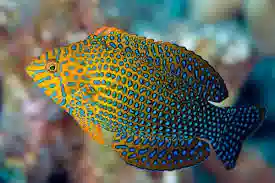 Potters Wrasse
Macropharyngodon geoffroyi
{{ item.name }}
Size: {{ item.extra_field_3 }}
${{ getFormattedPrice(item.price) }}
${{ getFormattedPrice(item.saleprice) }}
${{ getFormattedPrice(item.price) }}
Care Facts
There are no key facts available for this product.
Potter's Wrasse, Macropharyngodon geoffroyi, is also known as Geoffroy's Wrasse, Potter's Leopard Wrasse, or the Shortnose Wrasse. Potter's Wrasse has a light orange colored body with blue accents. Potter's. They are best kept in tanks with ample amounts of rock work for them to hide in and at least two inches of soft sandy substrate. Tanks should also have a securely shut lid to prevent escapes. Multiple Potter's Wrasses can be in the same tank. This is best done with multiple females and one male.
Currently Potters Wrasse does not have any reviews.