Expert Only
Ornate Leopard Wrasse
Macropharyngodon ornatus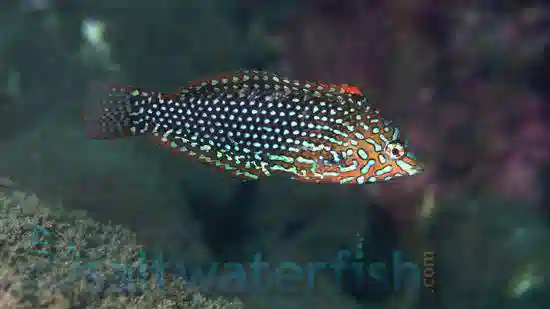 Expert Only
Ornate Leopard Wrasse
Macropharyngodon ornatus
{{ item.name }}
Size: {{ item.extra_field_3 }}
${{ getFormattedPrice(item.price) }}
${{ getFormattedPrice(item.saleprice) }}
${{ getFormattedPrice(item.price) }}
Care Facts
| | |
| --- | --- |
| Care Level: | Expert |
| Temperament: | Peaceful |
| Diet: | Carnivore |
| Origin: | Indo Pacific |
| Minimum Tank Size: | 50 gallons |
| Acclimation Time: | 3+ Hours |
| Reef Safe: | Yes |
| Coral Safe: | Yes |
| Invertebrate Safe: | Yes |
| Lighting: | ~ |
| Placement: | ~ |
| Waterflow: | ~ |
The Ornate Leopard Wrasse, Macropharyngodon ornatus, is a uniquely beautiful fish with a black/green body speckled with yellow/gold dots. The Ornate Leopard Wrasse is one of the few wrasse species that can be housed successfully with members of its own species. If this is done, there should be one dominant male and multiple females.

The Ornate Leopard Wrasse should be housed in a tank with at least 2 inches of soft sandy substrate and plenty of live rock work allowing for the wrasse to burrow and hide. A tightly secured lid should also be kept on the tank to prevent escape.

The Ornate Leopard Wrasse has been known to do a unique "dance" to stave off potential predators.
Expert Only: Items designated as expert only require special care such as a species specific environment, special diet or care, and an expert level, experienced aquarist. Not for beginners. Expert Only items qualify for our live arrival guarantee only, and are exempt from our extended 8 day guarantee.
Currently Ornate Leopard Wrasse does not have any reviews.