Chiseltooth Wrasse
Pseudodax moluccanus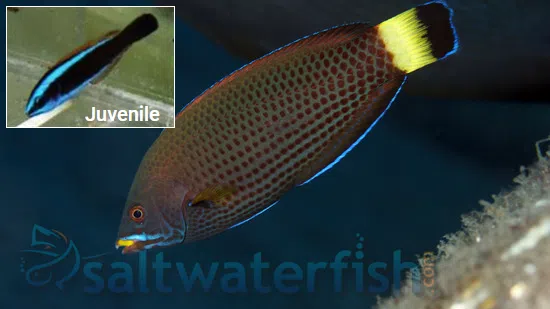 Chiseltooth Wrasse
Pseudodax moluccanus
{{ item.name }}
Size: {{ item.extra_field_3 }}
${{ getFormattedPrice(item.price) }}
${{ getFormattedPrice(item.saleprice) }}
${{ getFormattedPrice(item.price) }}
Care Facts
| | |
| --- | --- |
| Size: | up to 2.5 inches |
| Care Level: | Easy |
| Temperament: | Peaceful |
| Reef Safe: | Monitor w/ inverts |
| Diet: | Meaty variety, frozen foods, chopped seafood, flake |
| Origin: | West and South Pacific |
| Acclimation Time: | 3 + Hours |
| Coral Safe: | |
| Invertebrate Safe: | |
| Minimum Tank Size: | 55 gallon |
The Chiseltooth Wrasse, Pseudodax moluccanus, exhibits a beautiful brown checkered body, electric blue trimming on its fins, and a yellow and black tail. Juveniles have a black and neon blue body with maroon finnage. The Chiseltooth Wrasse is simply a gorgeous fish.
The Chiseltooth Wrasse is an excellent wrasse species for most home aquariums. It is peaceful, easy to care for, and is reef safe. This wrasse is best kept in a tank of at least 50 gallons, with plenty of live rock hiding places, and a tightly sealed lid to prevent escapes. They will feed primarily on a carnivorous diet including vitamin enriched foods like brine and mysis shrimp as well as quality flake and pellet foods. This semi-rare wrasse is beautiful both as a juvenile and adult and friendly making for a wonderful addition to any tank.
Chiseltooth Wrasse care facts (ideal ranges):
Temperature range - 72-78 F
pH range - 8.1-8.4
dKH range - 8-12
Specific gravity - 1.020-1.025
I love this Chiseltooth Wrasse! Pictures don't compare to the live fish. The new addition improves my saltwater water aquarium. Everyone loves it.
---
Reviewed by: Joe Welsch on Jan. 1, 2022