Expert Only
Black Leopard Wrasse - MAC Certified
Macropharyngodon negrosensis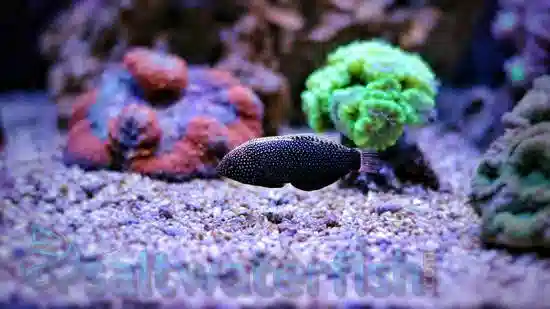 Expert Only
Black Leopard Wrasse - MAC Certified
Macropharyngodon negrosensis
{{ item.name }}
Size: {{ item.extra_field_3 }}
${{ getFormattedPrice(item.price) }}
${{ getFormattedPrice(item.saleprice) }}
${{ getFormattedPrice(item.price) }}
Care Facts
| | |
| --- | --- |
| Care Level: | Moderate |
| Temperament: | Peaceful |
| Diet: | Carnivore |
| Reef Safe: | Yes |
| Minimum Tank Size: | 90 Gallons |
| Max Size: | 5 inches |
The Black Leopard Wrasse is commonly referred as Yellowspotted Wrasse or Leopard Wrasse. It features a dark body with light blue to yellowish spots, which makes it a captivating specimen in your tank. The Black Leopard Wrasse requires a tank of 30 gallons with plenty of rocks to give an opportunity to carry out its natural browsing behavior in captivity. It is best to introduce it in groups of three or more, and it tends to eat small invertebrates that grow on live rocks. Its diet should include vitamin enriched frozen mysis shrimp, vitamin enriched frozen brine shrimp, and other meaty foods along with high quality marine flake and marine pellet food. The Black Leopard Wrasse thrives well in a temperature range of 72-78 degrees Fahrenheit, pH of 8.1-8.4. It is peaceful and wonderful fish that can be housed with others of the same genus. Due to its specialized eating habits and nature, the Black Leopard Wrasse should only be attempted by intermediate to advanced aquarists, since it is difficult to handle. It has curious behavior, and performs a little dance that becomes really strange to a possible predator, which makes them baffled and they finally move on. The tank requires a thick sand bed, where the Black Leopard Wrasse can sleep and take rest. It has beautiful black body color, where on the male the spots are diamond shaped, whereas the female is similarly colored. The Black Leopard Wrasse is difficult to keep and that is why it is not considered a good choice for a beginner aquarist. It is carnivorous and likes to feed on small invertebrates, and snails, which it picks from the reef with its canine teeth. That is why it is not considered a good reef safe species. The Black Leopard Wrasse needs to have lot of rocks to ensure an easy transition to captive life, along with a 2 inch thick sand bed. If it is housed with semi-aggressive fish, the Black Leopard Wrasse might jump out of the tank and therefore we recommend you to put it in a closed lid tank.
Expert Only: Items designated as expert only require special care such as a species specific environment, special diet or care, and an expert level, experienced aquarist. Not for beginners. Expert Only items qualify for our live arrival guarantee only, and are exempt from our extended 8 day guarantee.
Currently Black Leopard Wrasse - MAC Certified does not have any reviews.