Bicolor Anthias - South Asia
Pseudanthias bicolor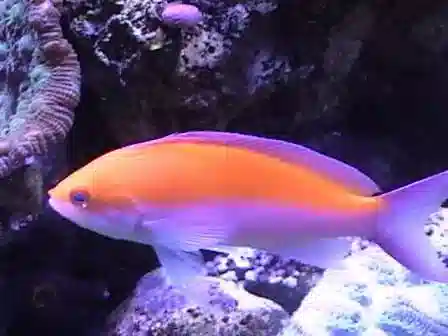 Bicolor Anthias - South Asia
Pseudanthias bicolor
{{ item.name }}
Size: {{ item.extra_field_3 }}
${{ getFormattedPrice(item.price) }}
${{ getFormattedPrice(item.saleprice) }}
${{ getFormattedPrice(item.price) }}
Care Facts
| | |
| --- | --- |
| Care Level: | Easy |
| Temperament: | Peaceful |
| Diet: | Carnivore |
| Reef Safe: | Yes |
| Minimum Tank Size: | 120 gallons |
| Max Size: | 5 inches |
The Bicolor Anthias, Pseudanthias bicolor, is hermaphroditic meaning all are born females, and when needed the dominant female turns into male. They also display sexual dimorphism with the male displaying a vivid violet body with a yellow streak along the back while the female displays more of a lavender color and the same yellow streak. They can be kept as a mated pair, or in a small school of females. Avoid keeping two males in the same tank, as it can lead to extreme aggression.
They are very hardy and can be kept in a reef tank setting with other peaceful tank mates. Diet should include a variety of a steady supply of copepods, frozen mysis and vitamin enriched brine shrimp, as well as high quality flake foods 3-5 times daily.

Love this Bicolor Anthias - South Asia! He is so beautiful and such an interesting personality! He doesn't bother anyone and has actually become friends with our yellow wrasse! They swim attached at the hip looking for food! He is a very mellow swimmer who loves swimming through the rock work to find new caves. He is a little hard to feed when competing with quicker eaters, I let a couple pellets sink in front of him and sink a few spirulina flakes)! I highly recommend him, he is sweet, beautiful, and easy!
---
Reviewed by: Shia M. on Sept. 11, 2021