Evansi Anthias - Africa
Pseudanthias evansi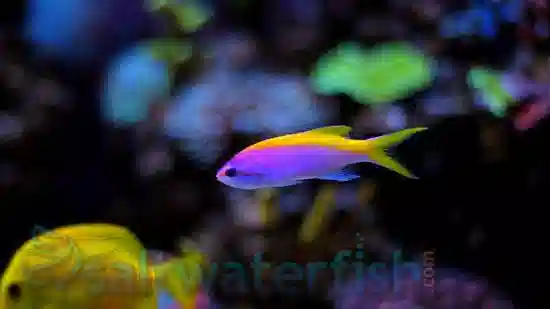 Evansi Anthias - Africa
Pseudanthias evansi
{{ item.name }}
Size: {{ item.extra_field_3 }}
${{ getFormattedPrice(item.price) }}
${{ getFormattedPrice(item.saleprice) }}
${{ getFormattedPrice(item.price) }}
Care Facts
| | |
| --- | --- |
| Care Level: | Expert |
| Temperament: | Peaceful |
| Diet: | Carnivore |
| Reef Safe: | Yes |
| Minimum Tank Size: | 70 gallons |
| Max Size: | 4 inches |
The Evansi Anthias, Pseudanthias evansi, is hermaphroditic meaning all are born females, and when needed the dominant female turns into male. Though they are one of the few Anthias species that does not display sexual dimorphism. They feature a mainly pink/purple color with a yellow streak along the top back half of the body, fins and tail. They can be kept as a mated pair, or in a small school of females. Avoid keeping two males in the same tank, as it can lead to extreme aggression.
They are peaceful and can be kept in a reef tank setting with plenty of live rock, but since they are one of the more sensitive genus of Anthias, they will require expert care. Diet should include a variety of a steady supply of copepods, frozen mysis and vitamin enriched brine shrimp, as well as high quality flake foods 3-5 times daily.
The Evansi Anthias - Africa was shipped extremely well, and it was a perfect addition to my reef tank. I acclimated according to the instructions, and I have had no problems with any of the fish I have received. What more can you ask for? Cheaper then my local fish store and it was delivered to my front door the next day.
---
Reviewed by: Jamison Tillar on Sept. 11, 2021