White Tail Yellow Eye Tang
Ctenochaetus flavicauda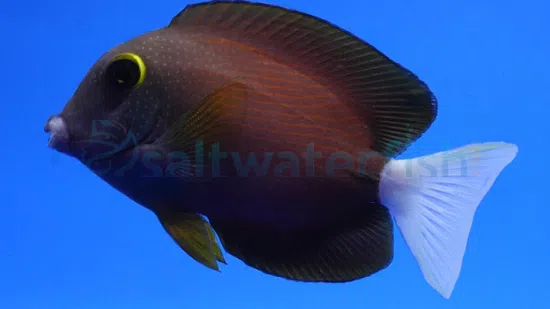 White Tail Yellow Eye Tang
Ctenochaetus flavicauda
{{ item.name }}
Size: {{ item.extra_field_3 }}
${{ getFormattedPrice(item.price) }}
${{ getFormattedPrice(item.saleprice) }}
${{ getFormattedPrice(item.price) }}
Care Facts
There are no key facts available for this product.
The White Tail Yellow Eye Tang,
Ctenochaetus flavicauda
, also known as the Whitetail Bristletooth Tang, has a beautifully deep red striped body with a shining bright white tail and small golden circles around its eyes. It has bristled teeth to help search and sift sand in the search of food.
The White Tail Yellow Eye Tang should not be kept in a tank with other tangs or members of its own species as it may get aggressive - it is peaceful with other fish. Like other tangs, the White Tail Yellow Eye Tang is an omnivore and will take a diet of meaty prepared foods but it should always be offered a selection of macroalgae and seaweed - weather in the tank or in prepared form.
Currently White Tail Yellow Eye Tang does not have any reviews.