Expert Only
Spotted Sweetlips
Plectorhinchus chaetodonoides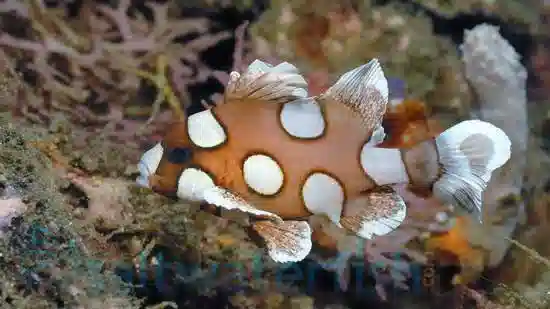 Expert Only
Spotted Sweetlips
Plectorhinchus chaetodonoides
{{ item.name }}
Size: {{ item.extra_field_3 }}
${{ getFormattedPrice(item.price) }}
${{ getFormattedPrice(item.saleprice) }}
${{ getFormattedPrice(item.price) }}
Care Facts
| | |
| --- | --- |
| Care Level: | Expert |
| Temperament: | Peaceful |
| Diet: | Carnivore |
| Origin: | Indian Ocean |
| Reef Safe: | Monitor |
| Coral Safe: | Yes |
| Invertebrate Safe: | No |
| Acclimation Time: | 3+ hours |
| Minimum Tank Size: | 50 gallons |
The Spotted Sweetlips, Plectorhinchus chaetodonoides, also known as the Clown Sweetlips and Harlequin Sweetlips, changes its body colors at is matures. As a juvenile it features a brown body with large white dots and as it matures it develops a black body with white dots. The Spotted Sweetlips should be cared for by an experienced aquarist. They can grow very large and should be housed in large tanks with plenty of live rock hiding places and open swimming space. They will take a carnivorous diet consisting initially of live feeder shrimp to get them acclimatized to eating. The Spotted Sweetlips may predate on small inverts so it is reef safe with caution.
Expert Only: Items designated as expert only require special care such as a species specific environment, special diet or care, and an expert level, experienced aquarist. Not for beginners. Expert Only items qualify for our live arrival guarantee only, and are exempt from our extended 8 day guarantee.
Currently Spotted Sweetlips does not have any reviews.