Orange Marked Goby
Amblygobius decussatus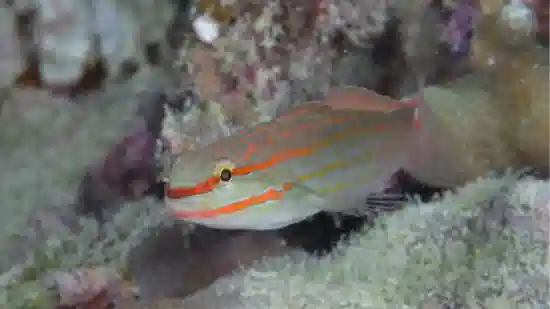 Orange Marked Goby
Amblygobius decussatus
{{ item.name }}
Size: {{ item.extra_field_3 }}
${{ getFormattedPrice(item.price) }}
${{ getFormattedPrice(item.saleprice) }}
${{ getFormattedPrice(item.price) }}
Care Facts
| | |
| --- | --- |
| Care Level: | Easy |
| Temperament: | Peaceful |
| Diet: | Carnivore |
| Reef Safe: | Yes |
| Minimum Tank Size: | 20 gallons |
| Max Size: | 4 inches |
The Orange Marked Goby, Amblygobius decussatus, features a white body with red cross-hatched stripes. They are very peaceful and can be housed with other peaceful fish in a reef tank setting, but may become territorial towards other blennies, gobies or dartfish in smaller tanks.
Gobies tend to stay mainly towards the bottom of the tank, burrowing and sifting through the sand. However, this goby is also a known jumper, so a tightly fitting lid is suggested. Diet should include a variety of frozen or live mysis shrimp and vitamin enriched brine shrimp as well as spirulina, marine algae and algae based foods 1-2 times daily.
The Orange Marked Goby are great fish. They acclimated very well. They are always out and swimming around. Their color changes under my lighting. Fun to watch.
---
Reviewed by: Max Didia on Sept. 12, 2021