Mono Fish
Monodactylus argenteus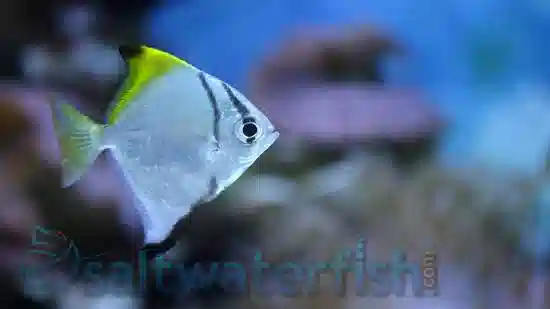 Mono Fish
Monodactylus argenteus
{{ item.name }}
Size: {{ item.extra_field_3 }}
${{ getFormattedPrice(item.price) }}
${{ getFormattedPrice(item.saleprice) }}
${{ getFormattedPrice(item.price) }}
Care Facts
| | |
| --- | --- |
| Care Level: | Moderate |
| Temperament: | Semi-Aggressive |
| Diet: | Omnivore |
| Reef Safe: | Yes |
| Minimum Tank Size: | 125 Gallons |
| Max Size: | 10 inches |
The Mono Fish, Monodactylus argenteus, also known as the Moon Fish, the Mono, Fingerfish, Silver Moony, and Moonfish, has a distinct diamond shape with a silver body and yellow dorsal fin. They are a great schooling fish, and should be kept in larger groups for the best success rates. They are lively eaters and will eat most prepared foods, carnivorous or herbivorous.
My Monos just do some light chasing after each other. I bought them the size of nickles...they are 3-4 inches across now. I have four but for my 125, I wish I just had one. They grow really fast and are good at eating pellet foods. You need a big tank for these guys. They are harmless with my other fish and inverts.
---
Reviewed by: John Atella on June 7, 2022
Love this Mono Fish! He is so beautiful and such an interesting personality! He doesn't bother anyone and has actually become friends with our yellow wrasse! They swim attached at the hip looking for food! He is a very mellow swimmer who loves swimming through the rock work to find new caves. He is a little hard to feed when competing with quicker eaters, I let a couple pellets sink in front of him and sink a few spirulina flakes! I highly recommend him, he is sweet, beautiful, and easy!
---
Reviewed by: Shia M. on Sept. 12, 2021