Lunare Wrasse - Fiji
Thalassoma lunare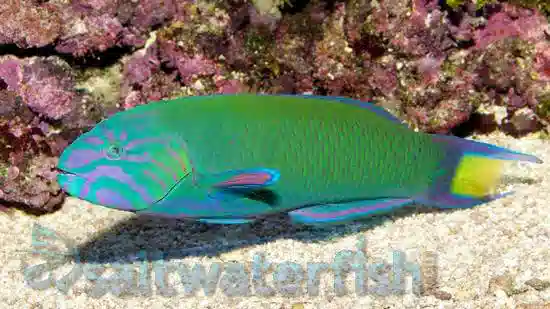 Lunare Wrasse - Fiji
Thalassoma lunare
{{ item.name }}
Size: {{ item.extra_field_3 }}
${{ getFormattedPrice(item.price) }}
${{ getFormattedPrice(item.saleprice) }}
${{ getFormattedPrice(item.price) }}
Care Facts
| | |
| --- | --- |
| Care Level: | Moderate |
| Temperament: | Aggressive |
| Diet: | Carnivore |
| Origin: | Indo-Pacific Ocean |
| Acclimation Time: | 3+ hours |
| Reef Safe: | No |
| Minimum Tank Size: | 125 gallons |
| Max Size: | 10 inches |
The Lunare Wrasse, Thalassoma lunare, also known as the Moon Wrasse for its yellow caudal fin shaped like a crescent moon. They exhibit a vibrant green body with unique blue/green/pink markings on its face and a luminescent yellow tail. The Lunare Wrasse is best kept in a tank with a tightly sealed lid to prevent escapes, plenty of live rock hiding places, and a deep sandy substrate. They can be aggressive with other wrasses that look similar to them so be cautious when stocking them with other large species of wrasse.

The Lunare Wrasse will change its coloration patterns as it matures getting more green on their body as adults. Feed them a variety of meaty saltwater foods such as brine shrimp, mysis shrimp, krill, clams, and other foods 1-2 times per day.

Currently Lunare Wrasse - Fiji does not have any reviews.