Larvatus Butterfly - Red Sea
Chaetodon larvatus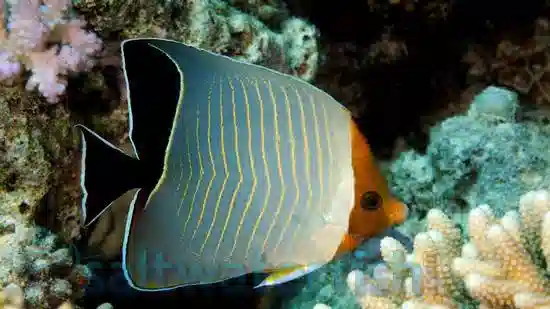 Larvatus Butterfly - Red Sea
Chaetodon larvatus
{{ item.name }}
Size: {{ item.extra_field_3 }}
${{ getFormattedPrice(item.price) }}
${{ getFormattedPrice(item.saleprice) }}
${{ getFormattedPrice(item.price) }}
Care Facts
| | |
| --- | --- |
| Care Level: | Moderate |
| Temperament: | Peaceful |
| Diet: | Omnivore |
| Reef Safe: | No |
| Minimum Tank Size: | 40 gallons |
| Max Size: | 5 inches |
The Red Sea Larvatus Butterfly, Chaetodon larvatus, has a truly unique look for a butterfly, featuring a red face with a cream colored body that fades to a pale blue, marked with thin vertical yellow lines and a black tail. They are peaceful and can be kept with other peaceful fish, but may become aggressive towards other Butterflies with a similar pattern or coloration in smaller tanks. Since they are more sensitive than most other Butterflies, they are recommended for experts only.
They are also not reef safe since they will nip at and eat soft corals and stony polyps as well as ornamental shrimp, tube worms and anemones. Diet should include a variety of mysis and vitamin enriched brine shrimp, spirulina, nori, seaweed, marine algae, and algae based foods, 2-3 times daily.
I bought this Larvatus Butterfly - Red Sea here and to show you how hardy this guy is, he was the most active of 5 fish I had delivered when outside temp in MN was 21 degree out and bag water was at 68 degrees. All survived after 2 1/2 hr slow drip acclimation. He is a colorful little guy to watch darting around the tank. He is constantly on the move searching for food or detritus on the bottom as well as on reef rock. Likes to dart in and out of rock. He is getting much better at snagging Mysis shrimp I drop in before the other 6 fish hog it all, especially my Hamlet Indigo who gobbles everything that moves. A joy to watch.
---
Reviewed by: Philip Brock on Sept. 11, 2021