Footballer Damsel - Indian Ocean
Chrysiptera annulata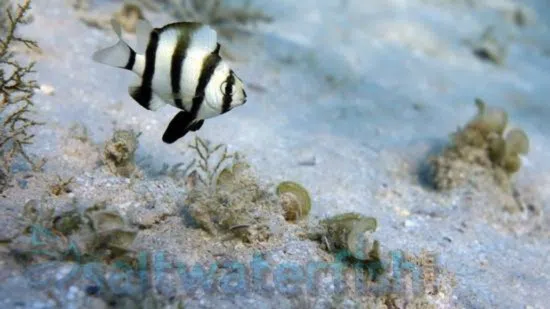 Footballer Damsel - Indian Ocean
Chrysiptera annulata
{{ item.name }}
Size: {{ item.extra_field_3 }}
${{ getFormattedPrice(item.price) }}
${{ getFormattedPrice(item.saleprice) }}
${{ getFormattedPrice(item.price) }}
Care Facts
| | |
| --- | --- |
| Care Level: | Easy |
| Temperament: | Aggressive |
| Diet: | Omnivore |
| Reef Safe: | Yes |
| Minimum Tank Size: | 30 gallons |
| Max Size: | 4 inches |
The Footballer Damsel, Chrysiptera annulata, also known as the Tiger Damselfish, is one of the most unique damselfish species out there. Its incredible black, silver, and white striped body resembles a tiger or even a referee. It also possesses unique pelvic fins and a pointed snout. Often the stripes go straight through the Football Damsel's eye as well.
This is a great beginner fish because it is hardy, easy to care for, peaceful, and will thrive with most hardy tank mates. In the wild, they are found in lagoons, inshore weeds, and sand flats across the Indian Ocean. They will feed on an omnivorous diet of most standard fish foods including brine and mysis shrimp, pellets, and seaweed. The minimum tank size for this damsel is a 30 gallon aquarium.

Currently Footballer Damsel - Indian Ocean does not have any reviews.