Expert Only
Divided Leopard Wrasse: Female - South Asia
Macropharyngodon bipartitus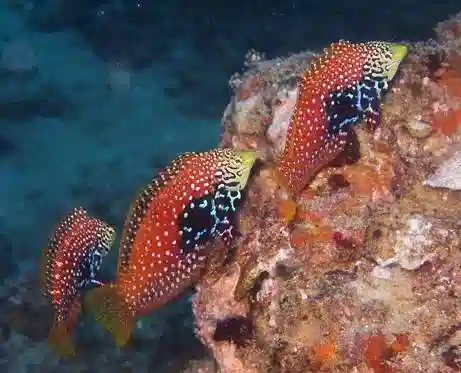 Expert Only
Divided Leopard Wrasse: Female - South Asia
Macropharyngodon bipartitus
{{ item.name }}
Size: {{ item.extra_field_3 }}
${{ getFormattedPrice(item.price) }}
${{ getFormattedPrice(item.saleprice) }}
${{ getFormattedPrice(item.price) }}
Care Facts
| | |
| --- | --- |
| Care Level: | Expert |
| Temperament: | Peaceful |
| Diet: | Carnivore |
| Origin: | Indo-Pacific |
| Minimum Tank Size: | 75 gallons |
| Acclimation Time: | 3+ Hours |
| Reef Safe: | Yes |
| Coral Safe: | Yes |
| Invertebrate Safe: | Yes |
| Lighting: | ~ |
| Placement: | ~ |
| Waterflow: | ~ |
The Divided Leopard Wrasse,
Macropharyngodon bipartitus
, is a magnificently colored wrasse. The Males body is a mosaic of oranges, yellows, blues, reds, and greens while the females have a more subdued beauty with mixed yellows and oranges with blue accents. The Divided Leopard Wrasse requires a soft sandy substrate because it buries itself in the sand overnight. They are also best kept in an established reef tank with plenty of rockwork. They can be housed with other members of its own species but should be introduced at the same time and before any other larger fish. The Divided Leopard Wrasse is hermaphroditic meaning once a dominant male dies, a large female can morph into a male and assume the position of leadership in a small group. They should be kept in a tank with a tightly closed lid to prevent possible escapes.
Expert Only: Items designated as expert only require special care such as a species specific environment, special diet or care, and an expert level, experienced aquarist. Not for beginners. Expert Only items qualify for our live arrival guarantee only, and are exempt from our extended 8 day guarantee.
Currently Divided Leopard Wrasse: Female - South Asia does not have any reviews.