Clown Tang - South Asia
Acanthurus lineatus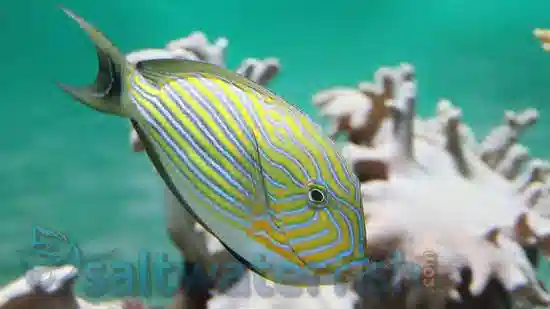 Clown Tang - South Asia
Acanthurus lineatus
{{ item.name }}
Size: {{ item.extra_field_3 }}
${{ getFormattedPrice(item.price) }}
${{ getFormattedPrice(item.saleprice) }}
${{ getFormattedPrice(item.price) }}
Care Facts
There are no key facts available for this product.
The Clown Tang is an active beautiful species. With its striking color form consisting of varied shades, it makes a captivating addition to any tank. The Clown Tang is known to be a territorial species, and as it grows it shows its aggressive behavior and suggested to be kept singly in the tank. It should be housed in a tank with plenty of open swimming space as well as a large amount of live rock for algae grazing, shelter and territory. The Clown Tang requires moderate water movement with excellent water quality. Because of their sharp spines, it's not recommended to net this Clown Tang species as it can become stuck and may become injured or stressed, instead a container should be used to carry this fish. It is herbivores and mainly eats marine algae and vegetable matter within its natural habitat. Although, the Clown Tang also grazes on any filamentous algae within the aquarium, it should be fed at least twice a day for its continued good health.
Currently Clown Tang - South Asia does not have any reviews.