Black & White Heniochus Butterfly - South Asia
Heniochus acuminatus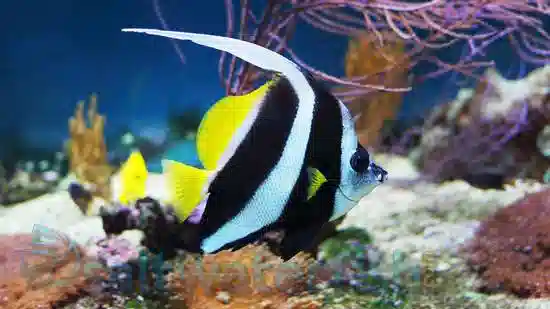 Black & White Heniochus Butterfly - South Asia
Heniochus acuminatus
{{ item.name }}
Size: {{ item.extra_field_3 }}
${{ getFormattedPrice(item.price) }}
${{ getFormattedPrice(item.saleprice) }}
${{ getFormattedPrice(item.price) }}
Care Facts
| | |
| --- | --- |
| Care Level: | Easy |
| Temperament: | Peaceful |
| Diet: | Omnivore |
| Reef Safe: | No |
| Minimum Tank Size: | 100 gallons |
| Max Size: | 9 inches |
The Black and White Heniochus Butterfly, Heniochus acuminatus, has a bold pattern of white and black bands contrasted with bright yellow fins and it has a wonderful long extension to its dorsal fin. They are very hardy and peaceful and can be kept with other peaceful fish, but may become aggressive towards other Butterflies with a similar pattern or coloration in smaller tanks.
They are also not reef safe since they will nip at and eat soft corals and stony polyps as well as ornamental shrimp, tube worms and anemones. Diet should include a variety of mysis and vitamin enriched brine shrimp, spirulina, nori, seaweed, marine algae, and algae based foods, 2-3 times daily.
Gorgeous fish. Eating well after acclimating. Beautiful colors and healthy. Can't wait to see him in the display tank soon.
---
Reviewed by: on March 26, 2019
---
Reviewed by: Becky Wyzykowski on Nov. 11, 2014
Have never bought from here before.Bought 3 and all fish arrived in great condition. Acclimated 3+ hours and then put in tank. All 3 began eating algae right away and no signs of stress. I look forward to purchasing the rest of my tank from here.
---
Reviewed by: Planet Thrift on July 25, 2012