Arrowhead Basslet
Belonoperca chabanaudi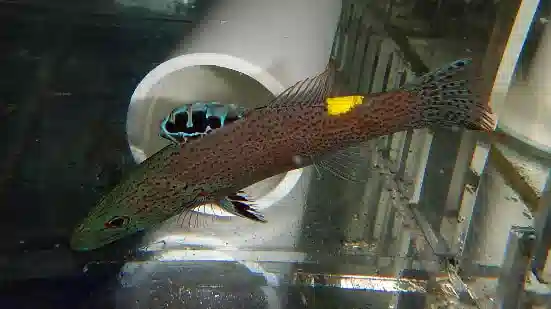 Arrowhead Basslet
Belonoperca chabanaudi
{{ item.name }}
Size: {{ item.extra_field_3 }}
${{ getFormattedPrice(item.price) }}
${{ getFormattedPrice(item.saleprice) }}
${{ getFormattedPrice(item.price) }}
Care Facts
| | |
| --- | --- |
| Care Level: | Expert |
| Temperament: | Aggressive |
| Diet: | Carnivore |
| Reef Safe: | No |
| Minimum Tank Size: | 55 gallons |
| Max Size: | 6 inches |
The Arrowhead Basslet, Belonoperca chabanaudi, has a green head that fades to a tan body that is speckled with darker brown spots and a speckled blue and black pattern on the fins and tail and features a bright yellow spot on the back. They are best kept singly, as they can be territorial but can be housed with other lager fish. Having plenty of live rock is also suggested as a darker environment is preferred.
Due to their predatory nature, they are not good reef dwellers since they will eat smaller fish and invertebrates present in tank, though they will not eat or bother any corals. Diet should include a variety of live feeder marine fish and feeder shrimp as well as chopped meaty preparations including shrimp, krill, fish, crab and squid, once daily.
Very lovely. I thought Arrowhead Basslet and the damsels were fighting, but it looks like they will seek him out and he will seek them. They seem to play in a way the damsels never did with each other. He stays closer to the bottom and doesn't come up to compete for food. I didn't think he was eating but then I realized my cheto was all but gone. Hungry as a herbivore.
---
Reviewed by: Tim Sprott on Sept. 11, 2021