Yellow Assessor - Australia
Assessor flavissimus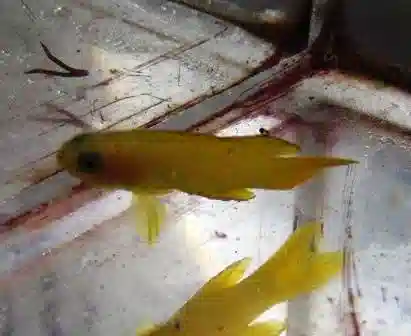 Yellow Assessor - Australia
Assessor flavissimus
{{ item.name }}
Size: {{ item.extra_field_3 }}
${{ getFormattedPrice(item.price) }}
${{ getFormattedPrice(item.saleprice) }}
${{ getFormattedPrice(item.price) }}
Care Facts
| | |
| --- | --- |
| Care Level: | Moderate |
| Temperament: | Peaceful |
| Diet: | Carnivore |
| Reef Safe: | Yes |
| Minimum Tank Size: | 30 gallons |
| Max Size: | 3 inches |
The Yellow Assessor,
Assessor flavissimus
, has an entirely yellow body with orange or red outlining the fins with just a hint of blue highlighting the eye. Like other Basslets they should not be housed with another Basslets to avoid aggression, but can be kept safely and peacefully in a reef tank with other tank mates. They are very hardy making them easy to acclimate and care for.
Corals and larger invertebrates like shrimp are safe from this Basslet, though they will consume very small invertebrates such as amphipods , isopods and copepods. Diet should include a variety of live or frozen mysis shrimp and vitamin enriched brine shrimp as well as chopped meaty foods like clam, krill, shrimp and squid once daily.
I've had Yellow Assessor - Australia for about a week and he's doing great. For the first few days I didn't see him at all, but now he makes appearances pecking at algae and darting in and out of the rocks and caves. Nice colors and appears healthy.
---
Reviewed by: Jason Darrow on Sept. 11, 2021