Scrawled Blue Cowfish
Acanthostracion quadricornis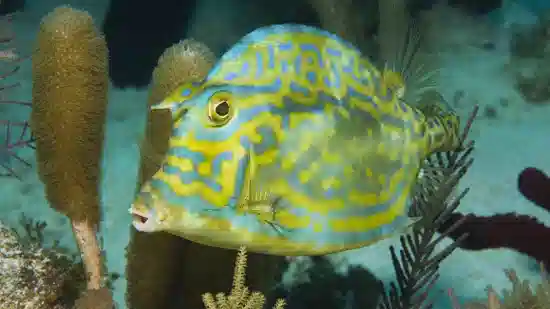 Scrawled Blue Cowfish
Acanthostracion quadricornis
{{ item.name }}
Size: {{ item.extra_field_3 }}
${{ getFormattedPrice(item.price) }}
${{ getFormattedPrice(item.saleprice) }}
${{ getFormattedPrice(item.price) }}
Care Facts
| | |
| --- | --- |
| Care Level: | Expert |
| Temperament: | Peaceful |
| Diet: | Omnivore |
| Reef Safe: | No |
| Minimum Tank Size: | 180 gallons |
| Max Size: | 20 inches |
The Scrawled Blue Cowfish,
Acanthostracion quadricornis
is a variety of Boxfish with characteristic "horns" protruding from its head resembling a bull or cow. Though in its juvenile stage, the "horns" are yet not developed. The lovable Scrawled Blue Cowfish is native to the Indo-Pacific Oceans and is a yellow/tan color with blue lines and dots scrawled along its body. This reef fish grow up to 20 inches in the wild, while aquarium specimens may reach up to 12 inches in captivity.
They should be kept in a tank of at least 180 gallons, with plenty of live rock and a sand substrate. It is a great reef fish as long as it is not kept with larger, more aggressive or speedy fish. Be sure not to house the Boxfish with cleaner type fish as well, as it has sensitive skin, and they do secrete poison from skin glands when stressed or in danger. This poison may kill fish in the aquarium very quickly. Also be sure to keep the lid on your tank tightly sealed to prevent jumping. They can pick on smaller inverts and tubeworms once it gets larger so plan accordingly. The Scrawled Blue Cowfish should be fed an omnivore diet of live Brine shrimp or Mysis, chopped squid, clams, mussels, and herbivore preparations for diversity in their diet.
Currently Scrawled Blue Cowfish does not have any reviews.