Sailfin Tang - Fiji - MAC Certified
Zebrasoma veliferum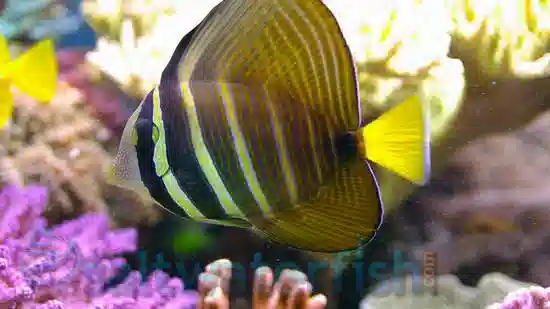 Sailfin Tang - Fiji - MAC Certified
Zebrasoma veliferum
{{ item.name }}
Size: {{ item.extra_field_3 }}
${{ getFormattedPrice(item.price) }}
${{ getFormattedPrice(item.saleprice) }}
${{ getFormattedPrice(item.price) }}
Care Facts
| | |
| --- | --- |
| Care Level: | Easy |
| Temperament: | Peaceful |
| Diet: | Omnivore |
| Reef Safe: | Yes |
| Minimum Tank Size: | 180 gallons |
| Max Size: | 15 inches |
The Sailfin Tang is also known as the Eastern sailfin tang, Pacific sailfin tang, Sail fish tang, Ringed tang, Purple-lined tang, Pacific sailfin surgeonfish, and Pacific sail-fin surgeonfish. They are indigenous to the Pacific Ocean and Western Indian Ocean. The Sailfin Tang is mainly found in rock and coral reefs. During the juvenile stage, the fish are solitary creatures who prefer to stay hidden among rocks or corals. When they are adult, they mostly live singly or in pairs. The Sailfin Tang species is one of the largest members of the genus Zebrasoma. Though they can get along with other tank mates quite peacefully, they are territorial in nature towards similar looking fish. The Sailfin Tang helps keep corals healthy by preventing overgrowth of algae by feeding around them.
Discovering the Grace of the Sailfin Tang (Zebrasoma veliferum) in Saltwater Marine Aquariums
The Sailfin Tang (Zebrasoma veliferum) is a captivating and visually striking addition to saltwater marine aquariums, celebrated for its unique appearance and impressive dorsal fin. With its vibrant coloration and distinctive attributes, this species is a cherished choice among marine enthusiasts. In this article, we will delve into various aspects of the Sailfin Tang, including its natural habitat, reef compatibility, size, lifespan, dietary preferences, aquaculture potential, temperament, suitable tank mates, tank requirements, water conditions, alternative common names, compatible tank mates, and the advantages of sourcing Sailfin Tangs from Saltwaterfish.com.
Habitat and Distribution:
The Sailfin Tang is native to the Indo-Pacific region, ranging from the Red Sea to the western Pacific Ocean. It thrives amidst coral-rich environments and rocky reefs, making it a captivating presence in well-maintained aquariums.
Reef Compatibility:
The Sailfin Tang is generally considered reef safe, focusing its grazing primarily on algae rather than coral polyps. However, providing a balanced diet of algae-based foods is recommended to support their nutritional needs.
Size and Lifespan:
This tang species can reach a length of approximately 15 inches (40 cm), showcasing its grandeur in your aquarium. With proper care, Sailfin Tangs can have a lifespan of 10 years or more.
Diet:
The Sailfin Tang is herbivorous, relying on algae and plant matter for nutrition. Offering a variety of marine pellets, seaweed sheets, and fresh greens ensures their dietary requirements are met.
Aquaculture Potential:
Sailfin Tangs are available in the aquarium trade, with almost all specimens sourced from the wild and work being done to develop aquacultured specimens. Opting for aquacultured Sailfin Tangs supports sustainable practices and contributes to preserving natural populations. Hopefully, we will see aquacultured specimens soon.
Temperament:
Sailfin Tangs are generally peaceful but can exhibit territorial behaviors towards their own kind or similar-looking species. Proper tank arrangements can help alleviate potential conflicts.
Suitable Tank Mates:
Tank Requirements and Water Conditions:
An adequately sized aquarium with ample swimming space is essential for the well-being of Sailfin Tangs. A tank size of at least 180 gallons is recommended to accommodate their active swimming habits. Consistent water quality, proper filtration, and optimal lighting contribute to their overall health and vibrant appearance.
Other Common Names:
In addition to the name "Sailfin Tang" or "Zebrasoma veliferum," this species is sometimes referred to as the "Sailfin Surgeonfish."
Why Choose Saltwaterfish.com:
Sourcing Sailfin Tangs from Saltwaterfish.com offers multiple advantages. Their commitment to ethical and sustainable practices ensures you receive healthy and responsibly sourced specimens. Saltwaterfish.com provides comprehensive information about each species, facilitating well-informed decision-making. With various options, exceptional customer support, and a streamlined purchasing process, Saltwaterfish.com guarantees a smooth and gratifying experience for marine enthusiasts.
In conclusion, the Sailfin Tang (Zebrasoma veliferum) is a captivating and visually striking addition to saltwater marine aquariums. Its vibrant coloration and distinctive dorsal fin make it a cherished member of marine ecosystems. By providing suitable tank arrangements and selecting compatible tank mates, enthusiasts can appreciate the elegance and vibrancy of these captivating tangs in their aquatic sanctuaries. When considering the acquisition of this exceptional species, choosing Saltwaterfish.com ensures a reliable and ethical source that prioritizes marine life's health and well-being. With proper care and attention, the Sailfin Tang can become a remarkable centerpiece in any saltwater aquarium, enhancing the beauty and allure of the underwater world.
Currently Sailfin Tang - Fiji - MAC Certified does not have any reviews.