Niger Trigger: Fiji - MAC Certified
Odonus niger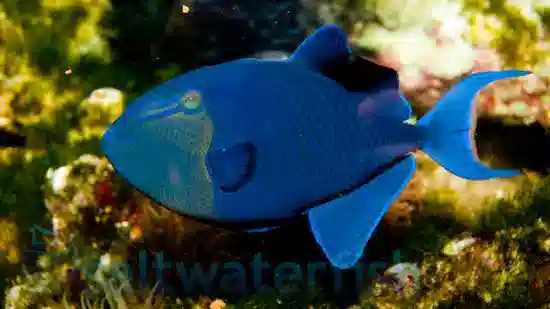 Niger Trigger: Fiji - MAC Certified
Odonus niger
{{ item.name }}
Size: {{ item.extra_field_3 }}
${{ getFormattedPrice(item.price) }}
${{ getFormattedPrice(item.saleprice) }}
${{ getFormattedPrice(item.price) }}
Care Facts
| | |
| --- | --- |
| Care Level: | Easy |
| Temperament: | Semi-Aggressive |
| Diet: | Carnivore |
| Reef Safe: | No |
| Minimum Tank Size: | 180 Gallons |
| Max Size: | 12 inches |
The Niger Trigger (Odonus niger) is a captivating marine creature appreciated by aquarists for its contrasting coloration, dynamic personality, and distinct physical characteristics. Dazzling blue jaws and tail fin accent its striking dark-blue-to-black body, and at full maturity, the Niger Trigger (Odonus niger) size can reach up to 18 inches.
A standout characteristic of this species is the Niger Trigger (Odonus niger) teeth. The fish possesses strong, continuously growing teeth resembling a beak. These teeth play a critical role in its survival, enabling it to crack open hard-shelled prey in the wild. However, in a home aquarium setting, these teeth may necessitate special diet considerations to prevent overgrowth.
Regarding accommodating a Niger Trigger in a home aquarium, the Niger Trigger (Odonus niger) tank size should be ample due to the fish's potential size. A tank of at least 180 gallons is recommended for a single Niger Trigger. If planning to include tank mates, an even larger tank size would provide enough territory for each inhabitant and minimize aggression.
Concerning potential Niger Trigger (Odonus niger) mates, this species can coexist with various non-triggerfish species but can show territorial behavior towards its kind. Therefore, carefully selecting tank mates is crucial for a harmonious aquarium environment.
The Niger Trigger (Odonus niger) reef safe status is a subject of ongoing debate among marine aquarists. While this species does not typically disturb corals, it has a penchant for munching on invertebrates like shrimp, snails, and crabs. So, it may not be the ideal inhabitant for a reef tank heavily populated with such invertebrates.
The Niger Trigger (Odonus niger) price can vary based on factors like the fish's size and origin. Live guarantees may also impact the price; for example, Saltwaterfish.com sells the Niger Trigger with an 8-day live guarantee, while Reefs4Less.com offers the same fish with 5-hour arrival guarantee at a slightly lower cost.
To sum it up, the Niger Trigger is a stunning, albeit sizable, addition to large marine aquariums. It requires consideration regarding tank mates, potential invertebrate predation, and its unique dietary needs due to its continuously growing teeth. Nonetheless, its vibrant personality and contrasting colors make it a beloved choice among experienced marine aquarists.
Currently Niger Trigger: Fiji - MAC Certified does not have any reviews.