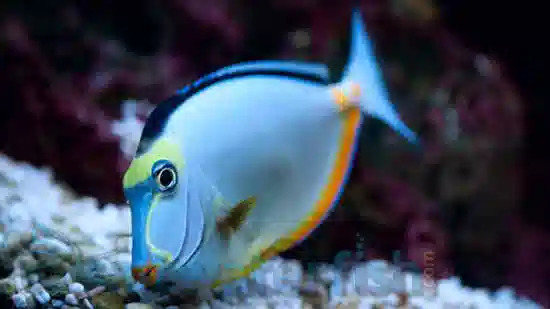 {{ item.name }}
Size: {{ item.extra_field_3 }}
${{ getFormattedPrice(item.price) }}
${{ getFormattedPrice(item.saleprice) }}
${{ getFormattedPrice(item.price) }}
Care Facts
| | |
| --- | --- |
| Size: | 2.5-3.5 inches |
| Care Level: | Peaceful |
| Temperament: | Easy |
| Diet: | Omnivore |
| Origin: | Hawaii |
| Acclimation Time: | 3+ Hours |
| Reef Safe: | Yes |
| Coral Safe: | Yes |
| Invertebrate Safe: | Yes |
| Minimum Tank Size: | 130 Gallons |

The Naso Tang, Naso lituratus, also known as the Lipstick Tang or the Orangespine Unicornfish, due to it's outstanding appearance, featuring orange lips and a pair of spines surrounded by a bright orange area on either side of the caudal peduncle. Like all Naso species, they have the ability to quickly and dramatically change, depending on mood or environment. When excited or hiding in the reef their body can become almost black with gray splotchy patches.

The Naso Tang requires a tank no less than 130 gallons as a fully matured adult. The Naso Tang likes water with a moderate to heavy flow, creating currents to swim in. Being very active during the day, they require a large tank with plenty of open room to swim about while also providing plenty of live rocks and or Corals to offer some cover if frightened, and to sleep in at night. Lush natural algae growth in the tank is suggested in order for the Tang to be able to graze upon in between meals. They may also jump out of an open aquarium, so be sure to have a tightly fitting lid. Keeping naturally growing algae in the tank will help with this, along with blanched lettuce and brine shrimp to entice it to eat. Their diet should consist of natural algae, as well as prepared frozen formulas containing algae or spirulina. Japanese Nori or other seaweed can be offered by attaching it with a vegetable clip to a rock or the glass. Vitamin enriched frozen brine and mysis shrimp should also be offered to help with a balanced diet. Live rock with heavy algae growth is ideal, as it will allow the Tang to scrape it teeth along the rock.
The Naso Tang (Naso lituratus): A Practical Care Guide
Saltwater marine aquarium enthusiasts are drawn to the graceful beauty and distinctive presence of the Naso Tang (Naso lituratus). This comprehensive guide offers essential insights into caring for this striking species, covering habitat, compatibility, diet, care requirements, and more.
Habitat of the Naso Tang
The Naso Tang is native to the warm waters of the Indo-Pacific, including the Red Sea and the Great Barrier Reef. Its natural habitat includes coral reefs and lagoons, where they find refuge in the coral branches and rocky crevices. The species is known for its nomadic behavior, often traveling in loose aggregations for food.
Reef Compatibility of the Naso Tang
The Naso Tang is considered reef-safe, making it a suitable addition to a reef aquarium. However, ensuring that your corals and other invertebrates are securely anchored is crucial, as these fish may occasionally graze on algal growth and sessile invertebrates.
Size and Lifespan of the Naso Tang
Naso Tangs can grow up to 18 inches or more in the right conditions. Their lifespan in captivity can range from 10 to 15 years, making them a long-term commitment for dedicated aquarists.

Diet in Captivity of the Naso Tang
In the wild, Naso Tangs are herbivores, primarily feeding on various types of algae and zooplankton. In captivity, it's essential to replicate their natural diet by providing a balanced mix of high-quality marine algae sheets, dried seaweed, and marine pellets. Occasional supplementation with frozen foods like brine shrimp or mysis shrimp can help ensure they receive the necessary nutrients.
Aquaculture and Availability of the Naso Tang
Naso Tangs are not commonly available through aquaculture. Saltwaterfish.com is dedicated to providing hobbyists with responsibly sourced fish, ensuring that each Naso Tang is healthy, acclimated, and ready to thrive in your aquarium.
Compatibility with Other Fish and Invertebrates of the Naso Tang
The Naso Tang generally exhibits a peaceful temperament, making it compatible with many tank mates. However, as they can grow quite large, ensuring your tank can accommodate their size and swimming needs is crucial. Also, be cautious when keeping multiple Naso Tangs in the same tank, as territorial disputes may arise.
Sexual Dimorphism of the Naso Tang
Sexual dimorphism in Naso Tangs is not visually distinguishable, as males and females share similar coloration and physical characteristics.
Juvenile to Adult Coloration Changes of the Naso Tang
Juvenile Naso Tangs typically display a more vibrant coloration, with a bright yellow body and black markings. As they mature into adults, their coloration may become less vivid, with the body taking on a grayish or bluish hue. Their caudal fin becomes elongated, showcasing the characteristic streamer extensions that make this species distinctive.
Temperament of the Naso Tang
Naso Tangs are known for their peaceful disposition, which makes them suitable for community aquariums. They are generally social and can coexist harmoniously with various tank mates, given the appropriate size and conditions.
Tank Requirements of the Naso Tang
To provide the best care for your Naso Tang, maintain a tank with a minimum size of 180 gallons (681 liters). Larger tanks are recommended for multiple tangs or when housing them with other large fish species. Water conditions should mimic their natural habitat, with a pH level between 8.1 and 8.4, a salinity level of 1.020-1.025, a stable temperature between 74-78°F (23-26°C), and moderate water flow to simulate ocean currents.
Common Names of the Naso Tang
The Naso Tang may also be known by other common names, such as the Orangespine Unicornfish, Barcheek Unicornfish, or the Lipstick Tang.
Compatible Tank Mates of the Naso Tang
Here are five specific species that can make suitable tank mates for your Naso Tang:
Why Choose the Naso Tang from Saltwaterfish.com
When you acquire a Naso Tang from Saltwaterfish.com, you choose a captivating and adaptable addition to your saltwater marine aquarium. Saltwaterfish.com is committed to responsibly sourced fish, ensuring that each Naso Tang is healthy, acclimated, and ready to thrive in your aquarium. With their dedication to quality and a wealth of resources, Saltwaterfish.com makes it easy to enjoy the distinctive beauty of Naso Tangs in your home aquarium.
With its striking coloration and peaceful temperament, the Naso Tang is an excellent choice for both beginner and experienced aquarists looking to add a touch of elegance to their saltwater marine aquarium. By providing specific requirements and a suitable environment, aquarists can appreciate the unique presence of the Naso Tang in their aquatic habitat.
Beautiful fish gets along with the rest of my fish
---
Reviewed by: Vincent Dubeau on Oct. 8, 2023
---
Reviewed by: Kelly Ford on Sept. 28, 2023
---
Reviewed by: Mike Peterson on Aug. 30, 2023
I was contacted because the Naso tang I had ordered failed the pre shipping inspection ( No more Naso's available) so I was offered a variety of substitutes, and I settled on a powder brown tang, which is absolutely gorgeous and doing tremendously with my Hippo tang.
---
Reviewed by: Vincent Amrhein on Aug. 15, 2023
---
Reviewed by: Harold Hoffman on Aug. 14, 2023
---
Reviewed by: Gregory Spires on Aug. 9, 2023
---
Reviewed by: Carlo Renne on July 25, 2023
Very good size and seems healthy.
---
Reviewed by: Donald Roman on July 13, 2023
---
Reviewed by: Jana Hess on July 11, 2023