Gold Spotted Moray Eel - Caribbean
Gymnothorax miliaris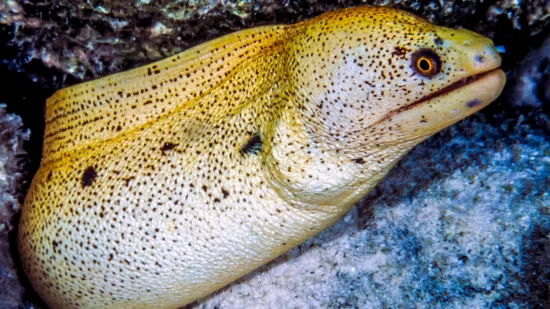 Gold Spotted Moray Eel - Caribbean
Gymnothorax miliaris
{{ item.name }}
Size: {{ item.extra_field_3 }}
${{ getFormattedPrice(item.price) }}
${{ getFormattedPrice(item.saleprice) }}
${{ getFormattedPrice(item.price) }}
Care Facts
| | |
| --- | --- |
| Care Level: | Moderate |
| Temperament: | Aggressive |
| Diet: | Carnivore |
| Reef Safe: | No |
| Minimum Tank Size: | 120 gallons |
| Max Size: | 24 inches |
The Gold Spotted Moray Eel,
Gymnothorax miliaris
, also known as the Golden Moray Eel, Conger Moray, or Gold Spot Moray Eel, is native to the coastal waters of Brazil.
For a moray, the Gold Spotted Moray is mildly mannered though will still eat smaller fish it can easily swallow. The Gold Spot Moray is often best kept with other species of its own kind or other morays. Like most other eels, your tank should have a very tight fitting lid to prevent the eel from jumping or escaping as they like to do. Also be careful when feeding the eel as they may try to nip at stray fingers, therefore it is recommended to use some feeding tongs to do so. It is not uncommon for eels to fast for weeks on end so do not become concerned if it appears your eel is not feeding. The Gold Spotted Moray Eel will undoubtedly be the highlight on any tank as its uniqueness and beauty combine to make for a spectacular specimen.

Currently Gold Spotted Moray Eel - Caribbean does not have any reviews.