Flame Fin (Tomini) Tang
Ctenochaetus tominiensis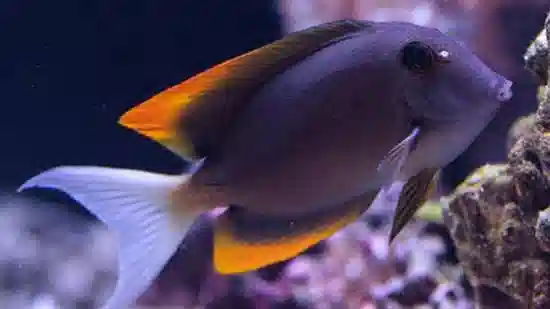 Flame Fin (Tomini) Tang
Ctenochaetus tominiensis
{{ item.name }}
Size: {{ item.extra_field_3 }}
${{ getFormattedPrice(item.price) }}
${{ getFormattedPrice(item.saleprice) }}
${{ getFormattedPrice(item.price) }}
Care Facts
There are no key facts available for this product.
The Tomini Tang is commonly referred to as the bristletooth tomini tang, or Tomini Surgeonfish. As a juvenile, the Tomini Tang features yellow, blue, and white highlights, and as it matures the body color changes. It should be kept in a tank with plenty of swimming room. The Tomini Tang is moderately easy to care for, and is considered reef safe that can be housed with corals and small invertebrates like sexy shrimp. It is considered an excellent scavenger that is reef tank friendly, and is considered a prototypical janitors in your tank. The Tomini Tang is a peaceful fish but can be a bully to species that are introduced after it.
Currently Flame Fin (Tomini) Tang does not have any reviews.