Expert Only
Dragon (Red Bug Eater) Pipefish - Central Pacific
Corythoichthys intestinalis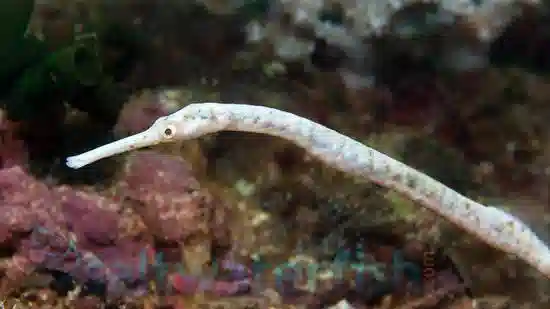 Expert Only
Dragon (Red Bug Eater) Pipefish - Central Pacific
Corythoichthys intestinalis
{{ item.name }}
Size: {{ item.extra_field_3 }}
${{ getFormattedPrice(item.price) }}
${{ getFormattedPrice(item.saleprice) }}
${{ getFormattedPrice(item.price) }}
Care Facts
| | |
| --- | --- |
| Care Level: | Expert |
| Temperament: | Peaceful |
| Diet: | Carnivore |
| Reef Safe: | Yes |
| Minimum Tank Size: | 50 gallons |
| Max Size: | 8 inches |
The Dragon Pipefish, Corythoichthys intestinalis is a small marine fish from Indo-Pacific. Other common names for the Dragon Pipefish includes, Dragonface Pipefish, Reeftop Pipefish, Banded Messmate Pipefish, Network Pipefish & Messmate. The Dragon Pipefish is often sought because they eat "Red Bugs" which can sometimes infest aquariums that have acropora corals where the Red Bugs are a nuisance.
The Pipefish will require a mature aquarium with plenty of copepods for feeding. Live brine shrimp can also be used to offer some variety. As the Pipefish establishes itself it will start to accept frozen food made up of copepods, brine shrimp and mysis.
The Dragon Pipefish Corythoichthys intestinalis is a slow moving peaceful fish and will usually keep close to the sand or rock work as it moves around. Because of it's peaceful nature the Dragon Pipefish are good tank mates in a Seahorse aquarium setup.
Expert Only: Items designated as expert only require special care such as a species specific environment, special diet or care, and an expert level, experienced aquarist. Not for beginners. Expert Only items qualify for our live arrival guarantee only, and are exempt from our extended 8 day guarantee.
This fish arrived in good shape and appears to be doing well. I haven't seen it eat, but it always appears to be foraging for food.
---
Reviewed by: Bruce Blumberg on March 22, 2016