Two Little Fishies CorAffix Gel Cyanoacrylate Adhesive 0.7 oz
0.7 oz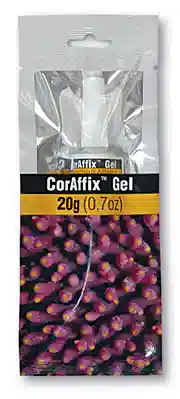 Two Little Fishies CorAffix Gel Cyanoacrylate Adhesive 0.7 oz
0.7 oz
{{ item.name }}
Size: {{ item.extra_field_3 }}
${{ getFormattedPrice(item.price) }}
${{ getFormattedPrice(item.saleprice) }}
${{ getFormattedPrice(item.price) }}
Care Facts
Currently there are no key facts available for this product.
CorAffix Gel CorAffix Gel is an ethyl cyanoacrylate bonding compound with a thick gel consistency. It is very easy to use for attaching frags of stony corals, zoanthids, and some soft corals to plugs or bases. Available in a 20 gram tube with easy to use, re-sealing tip. 20g (0.7oz)
Currently Two Little Fishies CorAffix Gel Cyanoacrylate Adhesive 0.7 oz does not have any reviews.