Expert Only
Pot-Bellied Seahorse: Male
Hippocampus abdominalis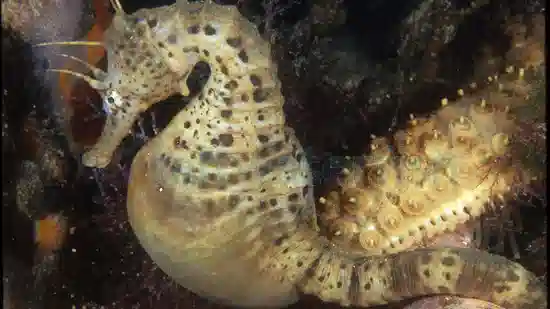 Expert Only
Pot-Bellied Seahorse: Male
Hippocampus abdominalis
{{ item.name }}
Size: {{ item.extra_field_3 }}
${{ getFormattedPrice(item.price) }}
${{ getFormattedPrice(item.saleprice) }}
${{ getFormattedPrice(item.price) }}
Care Facts
| | |
| --- | --- |
| Size: | 14 inches |
| Care Level: | Experienced |
| Temperament: | Peaceful |
| Reef Safe: | Yes |
| Diet: | Frozen Mysis, Brine |
| Origin: | Captive Bred |
| Acclimation Time: | 3 + Hours |
| Coral Safe: | Yes |
| Invertebrate Safe: | Yes |
| Minimum Tank Size: | 18 inches vertical height. 30 gallons for a pair. 30 to 40 gallons for 2 pairs. |
The Pot-Bellied Seahorse (Hippocampus abdominalis), also seen as Big-Belly or Potbelly Seahorse, is one of the largest species of seahorse in the world, with Australian specimen exceeding 14 inches in size. They can be found throughout the Indo-Pacific Ocean, where they hide among seaweed and non-stinging corals, searching for small invertebrates to eat. They have a brown mottled coloration with darker spots, though design and color do vary per individual; in addition, colors will change depending on surroundings and stress-levels. They are social animals and should at least be kept in a pair. They do best in species-only tanks, as most fish can cause stress and competition for food. They require a constant, gentle current to help provide food, as they are not strong swimmers. They should be housed in a matured, cycled aquarium with plenty of copepods. Live brine shrimp should also be offered daily.
Expert Only: Items designated as expert only require special care such as a species specific environment, special diet or care, and an expert level, experienced aquarist. Not for beginners. Expert Only items qualify for our live arrival guarantee only, and are exempt from our extended 8 day guarantee.
Currently Pot-Bellied Seahorse: Male does not have any reviews.