Nutramar Marine Algae & Color Boost Shots 12mm 60g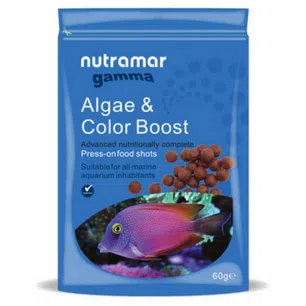 Nutramar Marine Algae & Color Boost Shots 12mm 60g
{{ item.name }}
Size: {{ item.extra_field_3 }}
${{ getFormattedPrice(item.price) }}
${{ getFormattedPrice(item.saleprice) }}
${{ getFormattedPrice(item.price) }}
Care Facts
There are no key facts available for this product.
Suitable for all marine aquarium inhabitants.
Nutramar Marine Algae & Color Boost Shots are suitable for everyday feeding for your fish, corals and other invertebrates. Sticks easily to the side of the tank or rockwork allowing your fish to graze whilst giving you a close-up view of your fish feeding!
With added color enhancers and a specially formulated mix of green and red marine algae. Suitable for every day feeding of herbivorous and other fish, corals and invertebrates such as Urchins and crabs.
Cold extruded to ensure no loss of nutritional value.
Use in conjunction with Nutramar Marine Complete Pellets to provide a varied diet and maintain your fish in optimum condition.
Easily digestible
Low waste Sensory attractants to encourage feeding
Nutritionally balanced and made from 100% natural ingredients including mussel, krill, prawn, Fish and fish derivatives, crustacean powders and derivatives, aquatic appropriate yeasts, nutritional protein-based binders, spirulina, natural stabilizer, acidity regulator, antioxidants. Vitamin A 22,500 IU/kg. Vitamin D3 2,000 IU/kg. Vitamin E 300mg/kg. Vitamin C (stable) 100 mg/kg
Refrigeration is not required but keep out of direct sunlight and tightly sealed. Do not contaminate the food with wet fingers. Keep out of reach of children. This product does not contain nuts but is made in a factory that handles nuts.
---
Reviewed by: Raymond Guilbaud on Sept. 4, 2023
Just got a little sample of these in my order and am now ordering two bags!— The concept of being able to stick the little nuggets wherever you want is a genius idea! They dont easily disentigrate so they stay solid in your hands but are also available for picking and grazing by aquatic life. I honestly love these things, especially to supplement inverts who are slow at feeding at the bottom of the tank. These are so awesome! I hope that there is a formula that contains calcium and biotin specified for inverts (crabs/urchins/shrimp) soon!
---
Reviewed by: Aileen Antoinette on Feb. 8, 2023