Lightning Maroon Clownfish
Premnas biaculeatus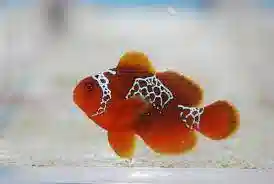 Lightning Maroon Clownfish
Premnas biaculeatus
{{ item.name }}
Size: {{ item.extra_field_3 }}
${{ getFormattedPrice(item.price) }}
${{ getFormattedPrice(item.saleprice) }}
${{ getFormattedPrice(item.price) }}
Care Facts
| | |
| --- | --- |
| Care Level: | Easy |
| Temperament: | Aggressive |
| Diet: | Omnivore |
| Reef Safe: | Yes |
| Minimum Tank Size: | 30 gallons |
| Max Size: | 6 inches |
The Lightning Maroon Clown, Premnas biaculeatus, has a maroon body that features 3 unique barring sections resembling a lightning pattern. They are social so they can be kept in a school if the tank is large enough, but are known to be a little more aggressive than most clownfish and will become aggressive towards other genus of clownfish.
Clownfish are reef safe and can be kept with peaceful invertebrates and corals, and most clowns will host an anemone present in the tank. Diet should include a variety of frozen and live mysis and brine shrimp as well as spirulina, marine algae, nori, and algae based foods, 2-3 times daily.
Love this Lightning Maroon Clownfish! He is so beautiful and such an interesting personality! He doesn't bother anyone and has actually become friends with our yellow wrasse! They swim attached at the hip looking for food! He is a very mellow swimmer who loves swimming through the rock work to find new caves. He is a little hard to feed when competing with quicker eaters, I let a couple pellets sink in front of him and sink a few spirulina flakes! I highly recommend him, he is sweet, beautiful, and easy!
---
Reviewed by: Shia M. on Sept. 11, 2021
An awesome little beautiful who peacefully explores my large reef tank's caves. Almost always visible and active.
---
Reviewed by: Rick Ellison on Sept. 11, 2021