Expert Only
Japanese Dragon Moray Eel
Enchelycore pardalis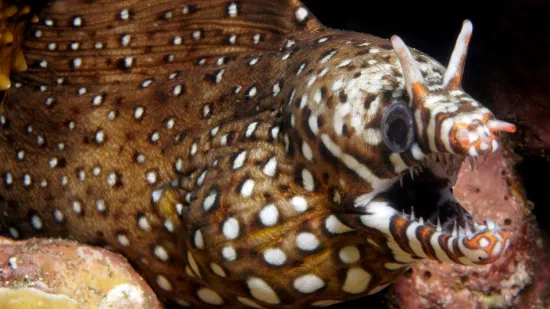 Expert Only
Japanese Dragon Moray Eel
Enchelycore pardalis
{{ item.name }}
Size: {{ item.extra_field_3 }}
${{ getFormattedPrice(item.price) }}
${{ getFormattedPrice(item.saleprice) }}
${{ getFormattedPrice(item.price) }}
Care Facts
| | |
| --- | --- |
| Care Level: | Moderate |
| Temperament: | Aggressive |
| Diet: | Carnivore |
| Reef Safe: | No |
| Minimum Tank Size: | 150 gallons |
| Max Size: | 45 inches |
The Japanese Dragon Moray Eel (Enchelycore pardalis) is a rare, elusive eel with unparalleled colors. It can have an orange or maroon body with white spots and designs, and will quickly become the centerpiece of any aquarium. Plenty of rocks should be provided in a study formation, so it can hide among them safely, without the chance of a collapse. It is recommended to keep E. pardalis in a fish only system, as they will eat any crustaceans or smaller fish present in a reef system. A tight lid is recommended, as eels are escape artists, capable of finding nearly any possible escape route. The Japanese Moray should be fed a carnivorous diet of fish or crustaceans regularly.
Expert Only: Items designated as expert only require special care such as a species specific environment, special diet or care, and an expert level, experienced aquarist. Not for beginners. Expert Only items qualify for our live arrival guarantee only, and are exempt from our extended 8 day guarantee.
Currently Japanese Dragon Moray Eel does not have any reviews.