Formosa Wrasse: Juvenile
Coris formosa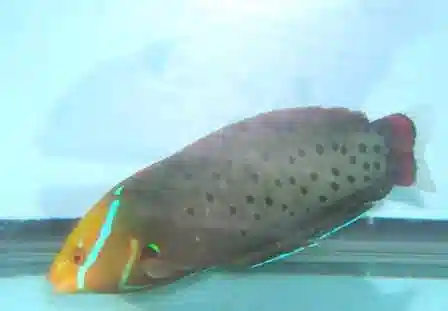 Formosa Wrasse: Juvenile
Coris formosa
{{ item.name }}
Size: {{ item.extra_field_3 }}
${{ getFormattedPrice(item.price) }}
${{ getFormattedPrice(item.saleprice) }}
${{ getFormattedPrice(item.price) }}
Care Facts
| | |
| --- | --- |
| Care Level: | Moderate |
| Temperament: | Semi-aggressive |
| Diet: | Carnivore |
| Orign: | Indian Ocean |
| Reef Safe: | Monitor |
| Coral Safe: | Yes |
| Invertebrate Safe: | Monitor |
| Acclimation Time: | 3+ hours |
| Minimum Tank Size: | 100 gallons |
The Formosa Wrasse, Coris formosa, also known as the Queen Coris Wrasse, features a grey body with scattered black spots and a bright orange face with a beautiful electric blue line bisecting it. The Juvenile Formosa Wrasse looks very different. It resembles a traditional Coris Wrasse with a red striped body and a voluminous crescent caudal fin.
The Formosa Wrasse is best kept in a tank with plenty of live rock hiding places, a sandy substrate, and a tightly sealed lid to prevent escapes.
Currently Formosa Wrasse: Juvenile does not have any reviews.