Expert Only
Black Cucumber
Holothuria atra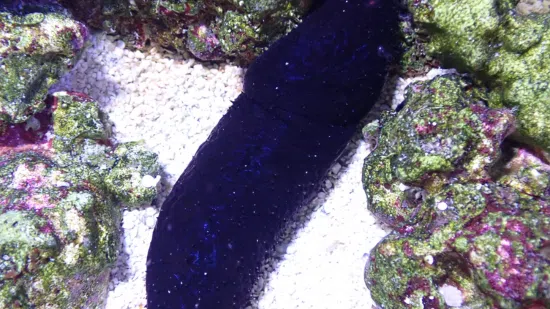 Expert Only
Black Cucumber
Holothuria atra
{{ item.name }}
Size: {{ item.extra_field_3 }}
${{ getFormattedPrice(item.price) }}
${{ getFormattedPrice(item.saleprice) }}
${{ getFormattedPrice(item.price) }}
Care Facts
There are no key facts available for this product.
The Black Cucumber, Holothuria atra, also known as the Black Sea Cucumber, features a black/brown body that can grow up to 3-4 inches. They are reef safe but can emit poisonous toxins if attacked and injured. They will spend much of their time buried in sandy substrate - therefore a sandy bottom is essential. They will feed mostly on algae and detritus through sifting the sand. As they are easy to care for they make an excellent beginner cucumber species.
Expert Only: Items designated as expert only require special care such as a species specific environment, special diet or care, and an expert level, experienced aquarist. Not for beginners. Expert Only items qualify for our live arrival guarantee only, and are exempt from our extended 8 day guarantee.
Currently Black Cucumber does not have any reviews.