Acan Echinata: Orange w/ Red Eye - Australia
Acanthastrea echinata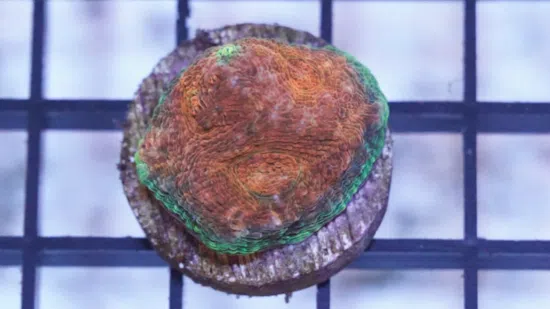 Acan Echinata: Orange w/ Red Eye - Australia
Acanthastrea echinata
{{ item.name }}
Size: {{ item.extra_field_3 }}
${{ getFormattedPrice(item.price) }}
${{ getFormattedPrice(item.saleprice) }}
${{ getFormattedPrice(item.price) }}
Care Facts
| | |
| --- | --- |
| Care Level: | Easy |
| Temperament: | Peaceful |
| Reef Safe: | Yes |
| Diet: | Trace elements - Coral Smoothie |
| Acclimation Time: | 2 hours |
| Coral Safe: | Yes |
| Invertebrate Safe: | Yes |
| Minimum Tank Size: | 15 gallons |
Acanthastrea corals, also known as Acans for short, are a popular and colorful type of large polyp stony (LPS) coral. They are native to the Indo-Pacific region, with many species being found in Australia and Indonesia. These corals have distinctive and intricate patterns, making them a prized addition to many reef aquariums.
Acanthastrea corals are also known for their feeding habits, as they can be trained to extend their tentacles in search of food. They are hardy and adaptable, and can change color under different lighting conditions. As a result, many hobbyists prefer T5 lighting for best results. Overall, Acanthastrea corals are a great option for both novice and experienced reef enthusiasts, providing a stunning and fascinating addition to any aquatic ecosystem.
Currently Acan Echinata: Orange w/ Red Eye - Australia does not have any reviews.